Read the mentioned sample answer for describing a goal that you achieved, which was set by yourself. Take ideas and new vocabulary words from these sample answers.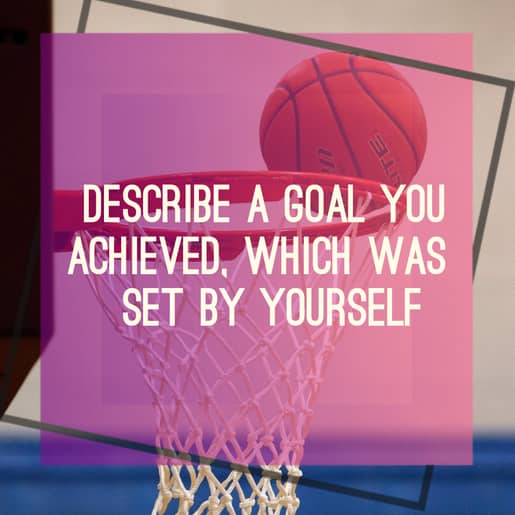 Describe a goal that you achieved, which was set by yourself
I have always loved to challenge myself because, in this way, I can learn some great life lessons that help me to become the best version of myself. Here I am going yo talk a personal goal that I accomplished by myself that helped me to improve
. What was it?
A while ago, I got mentally stressed because of the study and workload I had at that time. Hence, I decided to improve the situation, so I decided to search on the internet. It was the very first time when I was introduced to the term meditation, which is said to have many health benefits. So meditation was the personal goal that I set up for myself.
When did you set it?
About two years ago, when I was surfing the internet. I came to know about "Sadhguru." he is a very world-famous person who helps people to improve their lives mentally, spiritually, and physically. He gave some basic instructions about the basics to meditate and the health benefits it offers.
How did you achieve it?
Achieving this goal was such an intricate task more me since a person needs to eliminate all the thoughts that the person has that time to develop concentration. For a week, I failed in this section. However, I didn't lose hope, and then one of my friends recommend me to listen to meditation music while performing this. This trick worked like magic for me as I started becoming better in this gradually. After two months, I was able to meditate for about 30 minutes straight without much effort. I was mesmerized by this achievement.
Explain how it influenced your life?
This was such a life-changing experience for me as my sleeping quality improved significantly after this practice. My stress levels went down exponentially and had way more clarity in my thoughts and actions. It was I became a different person with a lot of positivity. I am delighted that I incorporated meditation into my daily schedule. The goal that I had set up for myself for my improvement was finally acquired after some trials and errors.
Sample answer 2 fro describing a goal goal:
to read the second sample answer click on the button below you will be redirected to the second sample answer: